Article: Can You Check a Duffel Bag? Tips and Tricks for Savvy Travelers | T|W Tote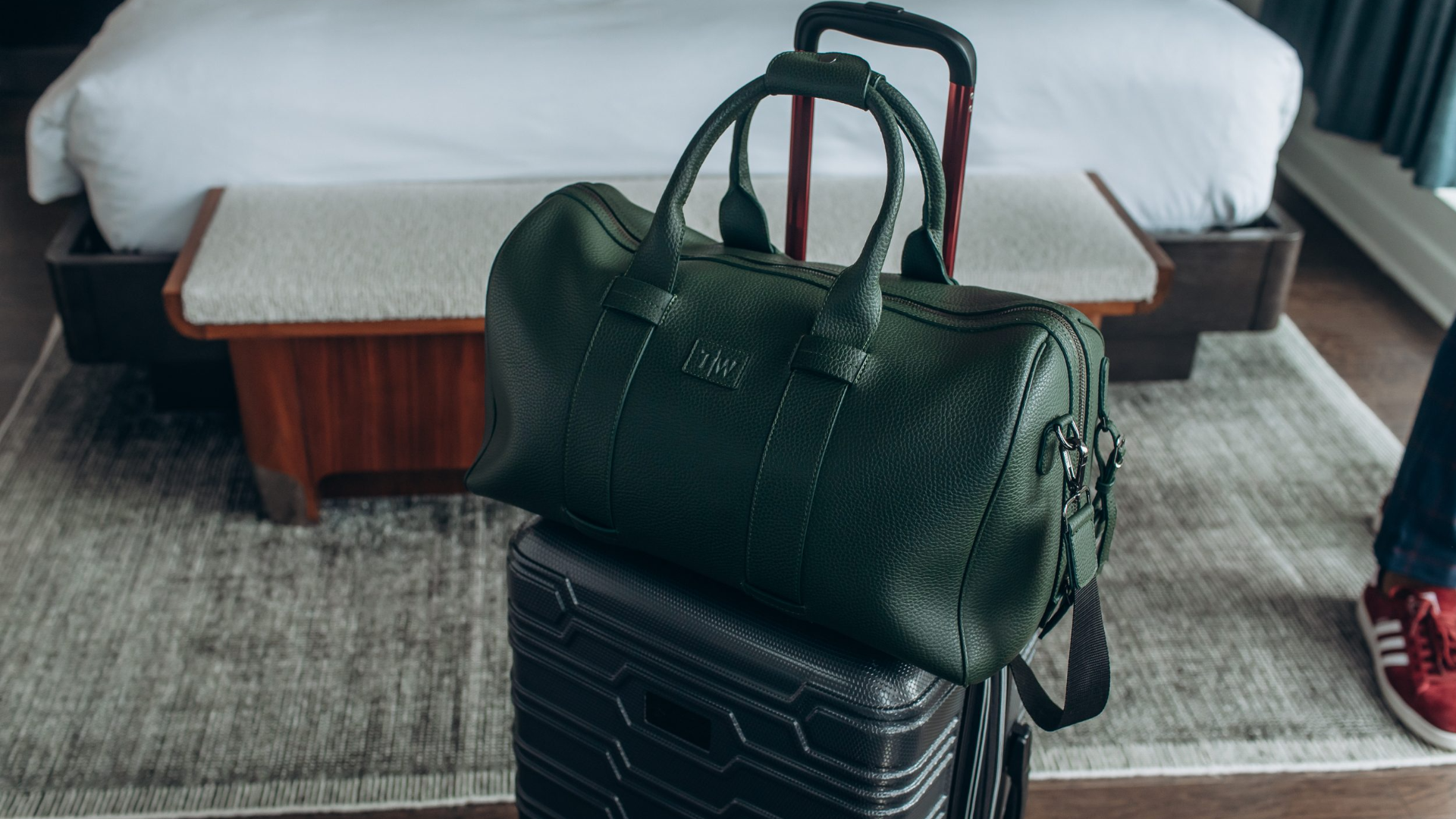 Can You Check a Duffel Bag? Tips and Tricks for Savvy Travelers | T|W Tote
Can I Check a Duffel Bag?
Yes, you absolutely can check a duffel bag when you travel. Duffel bags are popular among travelers due to their flexibility and versatility. They are typically lightweight, easy to carry, and most importantly, they can fit in overhead compartments or even under the seat in front of you on most airplanes. However, as with all luggage, adhering to the airline's size and weight restrictions is crucial to avoid additional fees. Every airline has different policies, so it's always best to review your airline's luggage guidelines before checking a duffel bag. 
You may be wondering why we spelt it as duffel versus duffle. This is not an error as both versions are correct. Duffel is the original spelling, being named from the town in Flanders Belgium where duffel bags originated.
Tips & Tricks for Checking a Duffel Bag
To make your travel experience as smooth and stress-free as possible, here are some tips to consider when checking a duffel bag:
Add an air tag to your checked bag so you can track your bag and lessen the likelihood of losing it.

Pack light and avoid putting too many items in your duffel bag. This will help keep the weight down and reduce the risk of potential fees.

Pack all your items securely and separate liquids from other items for easy security checks.

Make sure to label your duffel bag with contact information, like a phone number or address, in case your bag gets lost or misplaced. This will increase the chances of being reunited if your bag is misplaced during transit. 

To avoid having items shifting during the flight, try packing clothing and other soft items around more fragile items like electronics or toiletries. Additionally, consider using vacuum bags to reduce the size of bulky items like sweaters or blankets. This will make it easier to fit more items in your bag without exceeding the weight limit.

In case of separation, travelers should affix luggage tags with their contact information or an address to their duffel bags. Additionally, travelers should opt for TSA-approved locks to secure the zippers on their duffel bags. This will provide an extra layer of protection if security personnel open your bag for inspection.

Lastly, it's best to pack more fragile items in your carry-on luggage than in checked baggage when possible.
What Is The Duffel Bag Size For Checked Luggage?
Can you use a duffel bag as checked luggage if it's extremely large? I'm glad you asked. The size is a crucial factor to consider. Most airlines have specific guidelines on the maximum dimensions for checked luggage. Be mindful of the dimensions to avoid additional charges or the hassle of repacking at the airport. Typically, a checked bag's combined length, width, and height should be at most 62 inches (or 157 centimeters). However, these dimensions can vary depending on the airline, so always check the specific baggage policies of your chosen carrier once you book your ticket.
Another factor to consider is your bag's weight allowance. Again, most airlines will have a specified weight limit for checked luggage. If you need clarification on the exact allowance, it's best to consult with your airline beforehand. The maximum weight allowance typically ranges between 50 and 70 pounds (or 22 and 32 kilograms). It's important to remember that exceeding the weight restrictions can result in hefty fees.
Finally, you should always double-check your packing items before heading to the airport. Many airlines have specific restrictions on what items are allowed in checked baggage; others may even prohibit certain things entirely. You don't want to be detained for a pocket knife you forgot in your duffel bag from last week's camping trip. 
What Types Of Duffel Bags Can I Check?
Now that we have answered your question, "can a duffel bag be a checked bag?" I'm sure you are curious about the type of duffle bag to check.  Aside from size restrictions, airlines may also impose regulations on the types of duffel bags they will allow you to check. For instance, some carriers allow passengers to check soft-sided duffel bags due to their lack of structure and propensity for damage. Hard-sided suitcases are more secure and can be checked with minimal issues. 
Additionally, it's always a good idea to look into any additional discounts or benefits your airline may offer for checking bags early or multiple items at once. Taking advantage of these offers can help you save time and money while still getting your items safely where they need to be.
Advantages of Using a Duffel Bag for Travel
Duffel bags offer several advantages that make them a popular choice for travel:
Their flexible structure means they can adapt to the shape of their contents, making it easier to fit oddly-shaped or bulky items.

They are often lighter than hardshell suitcases, saving precious weight allowance for your belongings.

Many duffel bags come with compartments like our

T|W weekender bag

, enabling easy organization of your items for convenient access.

Duffel bags often feature sturdy handles and shoulder straps, providing multiple carrying options for greater comfort and ease of movement.
The versatility of a duffel bag makes it a reliable companion for a wide range of travel scenarios.
Tips for Choosing the Right Duffel Bag
When selecting your duffel bag, consider size, material, and features. Select a bag that is the right size and weight for your intended use. Strong yet lightweight materials like nylon or polyester are generally best for durability and long-term performance. Additionally, look for a bag with adequate storage space and pockets for organizing items. Finally, take note of the bag's handles, straps, and closures to ensure smooth handling and reliable closure.
Considering all these factors, you can make an informed decision on which duffel bag is best suited to your traveling needs.
Is It Safe To Check A Duffel Bag?
Despite the myriad benefits, checking a duffel bag at the airport can sometimes present challenges. The last thing you want is to recognize your clothing on the conveyor belt because the Duffel bag could not handle the wear and tear of being tossed by the baggage handlers. One of the most common issues is damage due to the soft-sided nature of the bag, as it can be susceptible to rips and tears during the handling process. Another concern can be overpacking; given the flexible structure of a duffel bag, it's easy to exceed airline weight limits which could result in additional checked bag fees. Furthermore, the lack of built-in locks on most duffel bags can pose a security risk. It's critical to be aware of these potential issues and take the necessary precautions to mitigate them when using a duffel bag for air travel. 
Tips to Mitigate the Issues When Using a Duffel Bag
Tighten straps to reduce the risk of damage. Consider investing in a high-quality duffel bag made from durable materials such as ballistic nylon or polyester. Additionally, you can protect your items by packing them in a way that fills out the bag and buffers against impacts. Using packing cubes or vacuum bags can help organize your belongings and prevent overpacking, making staying within airline weight limits easier. Consider using a TSA-approved padlock to secure your bag's zippers for security. Also, avoid packing valuables in your checked duffel bag and keep them in your carry-on luggage. These preventive measures make a duffel bag an efficient travel companion.
What We Would Suggest As World Travelers
Running an international brand with manufacturing facilities, clientele, and corporate buyers worldwide is no small feat. We spend a lot of time traveling through many airports worldwide. I have seen the best and the worst of what to expect regarding checked bags. We suggest checking a hardshell roller bag and using a duffel bag that qualifies as an international carryon bag like our weekender. This way, you get to show off your airport fashion piece and protect it instead of having it tossed on a conveyor belt with larger, much heavier items. If you go with a different brand, ensure the Duffle bag has an airport strap. Many airports can be very large. Even after you retrieve your rolling hardshell checked bag, there may be a lot of walking to the exit. Securing your duffel bag to the handle of your roller bag can make walking a much more comfortable experience. However, if you want to stick with checking your duffel bag, we have armed you with all the tips you need to do so successfully. 
Make Your Journey Stress-free with T|W Tote's Duffle Bag
T|W Tote's duffel bag is the perfect travel companion for your next trip. Our lightweight and durable bag is designed to fit all your essentials while staying within airline restrictions. It is ideal for extended trips or short excursions. With multiple pockets, a padded bottom layer, and a reinforced shoulder strap, this duffel bag will help you stay organized and make your journey stress-free. And with our 100% satisfaction guarantee, you can confidently experience the T|W Tote difference. So go ahead and pack your bags - with T|W Tote's duffel bag, you're ready for any adventure!
For more information about T|W Tote's duffel bags and how they can help you on your next getaway, check our product collection. From lightweight bags to versatile designs, we have a bag for every travel need! We look forward to helping you make your journey one to remember. Happy Travels! 🛫😃🌎
Suggested Read
If you like this blog you would love our blog on sustainability. It talks about how we use vegan leather in the production of our duffel bags. 
Frequently Asked Questions
 Is it safe to check a duffel bag?
While checking a duffel bag offers benefits, it can also present challenges. Soft-sided duffel bags are more susceptible to damage, and overpacking can lead to exceeding weight limits and additional fees. Lack of built-in locks can pose security risks. To mitigate these issues, use durable materials, tighten straps, and consider using a TSA-approved padlock. Valuables are best kept in your carry-on luggage.
Are there any specific rules or regulations regarding checked duffel bags for international flights?
Yes, international flights may have additional customs and security regulations. It's recommended to research the specific baggage rules of the countries you're traveling to and from, as well as any restrictions on items that can be transported across borders.
Can I purchase travel insurance to cover potential damage or loss of my checked duffle bag?
Yes, many travel insurance policies offer coverage for lost, damaged, or delayed baggage. It's a good idea to review the terms and conditions of the policy to understand the extent of coverage and any exclusions.
What should I do if my checked duffel bag is lost or delayed?
If your checked duffel bag is lost or delayed, immediately report it to the airline's baggage services counter. Provide them with your contact information and details about the bag. Most airlines have procedures in place to track and reunite passengers with their luggage.
Are there any specific items that I should avoid packing in my checked duffel bag?
Answer: Yes, it's advisable to avoid packing valuable or fragile items, important documents, medications, and electronics in your checked duffel bag. These items are better kept in your carry-on luggage to ensure their safety and accessibility.
What is the weight of the T|W Tote's duffel bag?
The T|W Tote's duffel bag is designed to be lightweight to ease your travel experience. However, the exact weight can vary based on the model. Please refer to the specific product information on our website for details.
Do the T|W Tote duffel bags come with a warranty?
We stand behind the quality of our products. The T|W Tote's duffel bag comes with a 100% satisfaction guarantee. For more information on our warranty policy, please visit our website or contact our customer service team.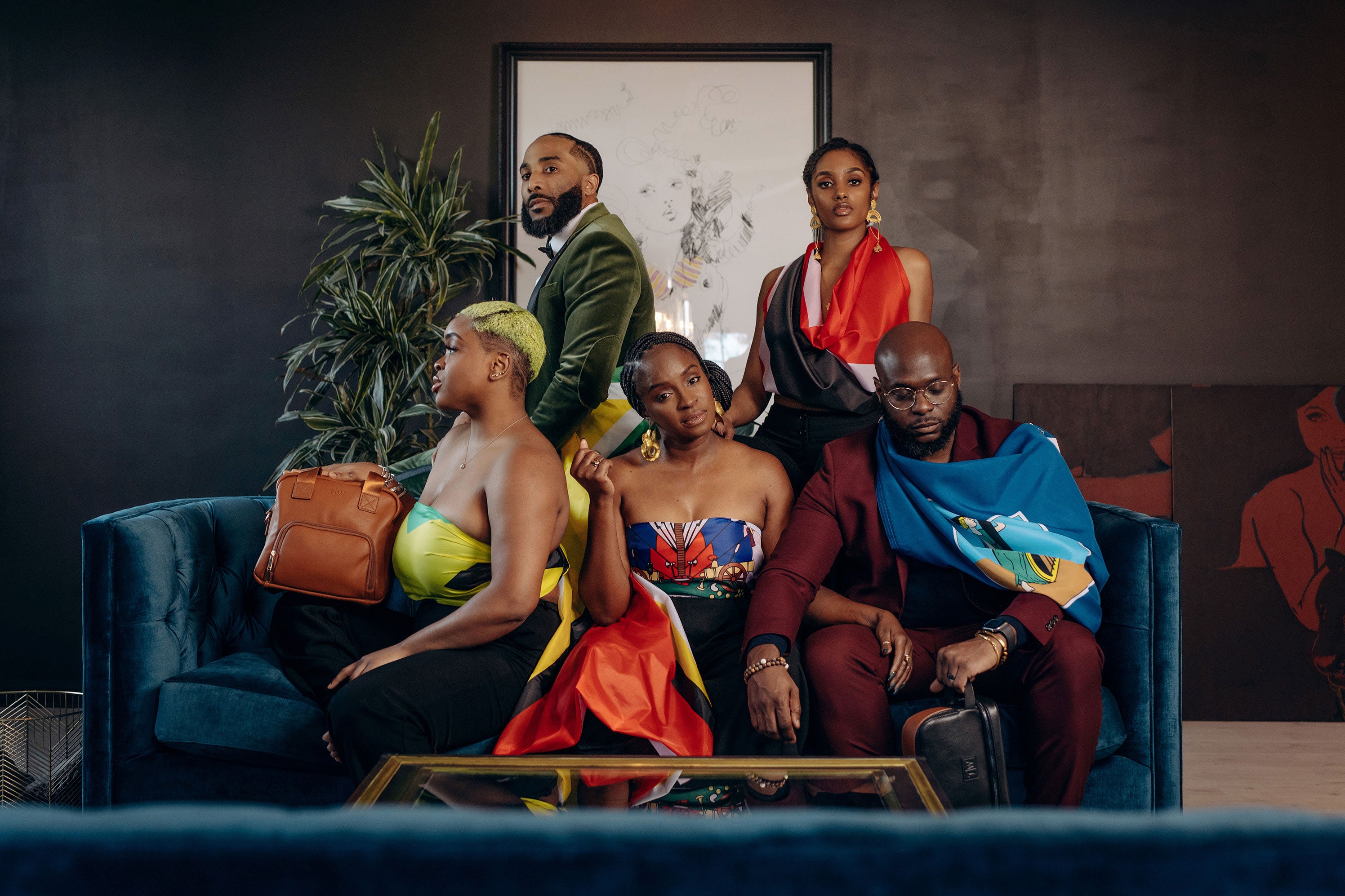 It's (Officially) Black History Month!
February is kind of a big deal around here. It's the month the rest of the country celebrates Black History along with us here at T|W. We as a company truly do celebrate Black History all year ...
Read more