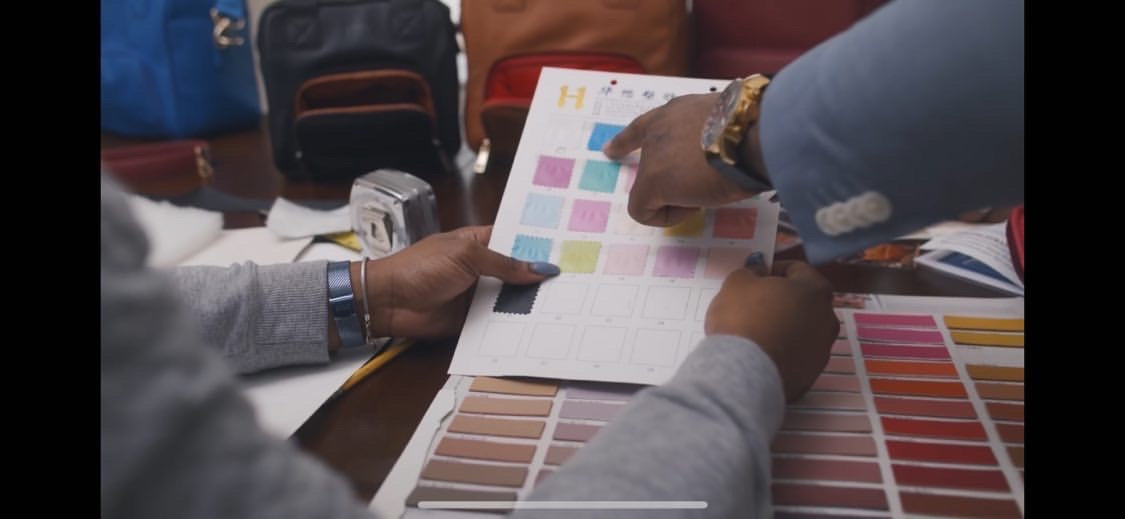 For the month of August, we would like to share some of our Caribbean heritage with you!
Hello - for those of you who don't know us, here we are below! Sherika Wynter and Shallon Thomas.  We are co-owners and founders of our beloved business and venture, T|W Tote.
Sherika is from Jamaica, the "Land of Springs". Jamaica is the third largest of the Caribbean islands, and the largest English-speaking island in the Caribbean Sea. Situated 90 miles south of Cuba, 600 miles south of Florida, USA, and 100 miles south-west of Haiti, Jamaica is approximately 146 miles long, 51 miles wide, and has an area of 4,411 square miles. The capital, Kingston, is the largest city and is located in the south-eastern part of the island.  The island's name, Jamaica, is derived from the Arawak word Xaymaca. Although the official language is English, most Jamaicans speak an English-based dialect which is known as patois.
Shallon is from Trinidad which is the largest island in the nation of Trinidad and Tobago, off Venezuela's coast in the southern Caribbean. The capital, Port of Spain, is home to the Royal Botanical Gardens and the National Museum and Art Gallery, dedicated to local history and artwork. Its historic center is leafy Woodford Square, while Queen's Park Savannah is a popular recreation area and location of the boisterous annual Carnival. Trinidad, is also known as the "Land of the Hummingbird".
Life has not been so easy for those living in the Caribbean.  Looking back at our heritage, life has not been kind.  We would like to share with you a little of what it meant growing up in the Caribbean.
The Story of Emancipation 
You are not Alone
A Little History - August 1, 1834 marked a special day for Africans in British colonies as it was the day they received freedom from slavery. In Jamaica, the Emancipation Declaration was read from the steps of the Old Kings House in Spanish Town, St Catherine, the country's capital at the time.  The bill for the abolition of slavery in the British colonies received the royal assent on August 28, 1838. It stated:
"Be it enacted, that all and every one of the persons who on the first day of August one thousand eight hundred and thirty four, shall be holden in slavery within such British colony as aforesaid, shall, upon and from and after the said first day of August, one thousand eight hundred and thirty-four, become and be to all intents and purposes free and discharged from all manner of slavery, and shall be absolutely and forever manumitted."
The passage of this bill in the British Parliament in England enabled approximately 311,000 enslaved Africans in Jamaica and hundreds of thousands more across the colonies the freedom for which many of their predecessors had fought and died. However, the Africans did not receive full freedom until four years later, as all slaves over six years old were subjected to a mandatory six-year period of apprenticeship.  Emancipation Day was officially introduced as a public holiday in Jamaica in 1893. The 'First of August' celebrations, however, were discontinued in 1962, when Jamaica gained independence. It was replaced by Independence Day, then observed on the first Monday in August. Emancipation Day was re-instituted in 1997 by then Prime Minister PJ Patterson as a national holiday celebrated on August 1.    Emancipation Park was opened on the eve of Emancipation Day, July 31 in 2002 and is named in commemoration of Emancipation Day. In 2003,  the 11-foot bronze sculpture, Redemption Song, by Jamaican Laura Facey, was unveiled at the main entrance of the park. Facey said she was inspired by the words of National Hero Marcus Garvey and later reggae legend Bob Marley, "none but ourselves can free our minds".  The first country in the world to commemorate Emancipation Day as a national holiday was Trinidad and Tobago, which did so in 1985.
We are proud of our heritage and the struggles that our ancestors went through to give us the freedoms that we have today. We could not imagine where we are today and the tools we are using to grow our business.  Life is amazing! All the little surprises that are thrown to you along the way, can turn out to be challenging and intriguing partners in growing your business.
Here We are Today! 
We are proud of our heritage and culture and would like to share it with you.  One way of sharing is in how we name our Lunch Totes.  A great deal of thought, sweat and tears goes into the decisions we make in giving each of our Totes its Name.  Our current collection includes Cassava, Guinep, Mero, Sorrel and Tamarind.  Some background about where our Totes come from will be featured in an upcoming blog.
It certainly has been a balancing act in having a life, a business that we love, family and 
friends to share with.
As a reminder, to do our due diligence -- Stop Using Plastic w/ Music Example.mp4
If you would like to share your story with us, we would love to hear it.  Please email it to us at letschat@thomasandwynter.com.

Celebrating Independence Day around the world and right in your backyard. In 2021, that is the name of the game. With the pandemic slowly receding (we hope!) and life creeping back outside and in,...
Read more
More than just a Professional Lunch Tote!
Every season has a purpose, and every item can be repurposed in some way.  It's summertime and all is fine.  Let's see how we can use our Tote in a multi-faceted way. Warm temperatures call everyo...
Read more