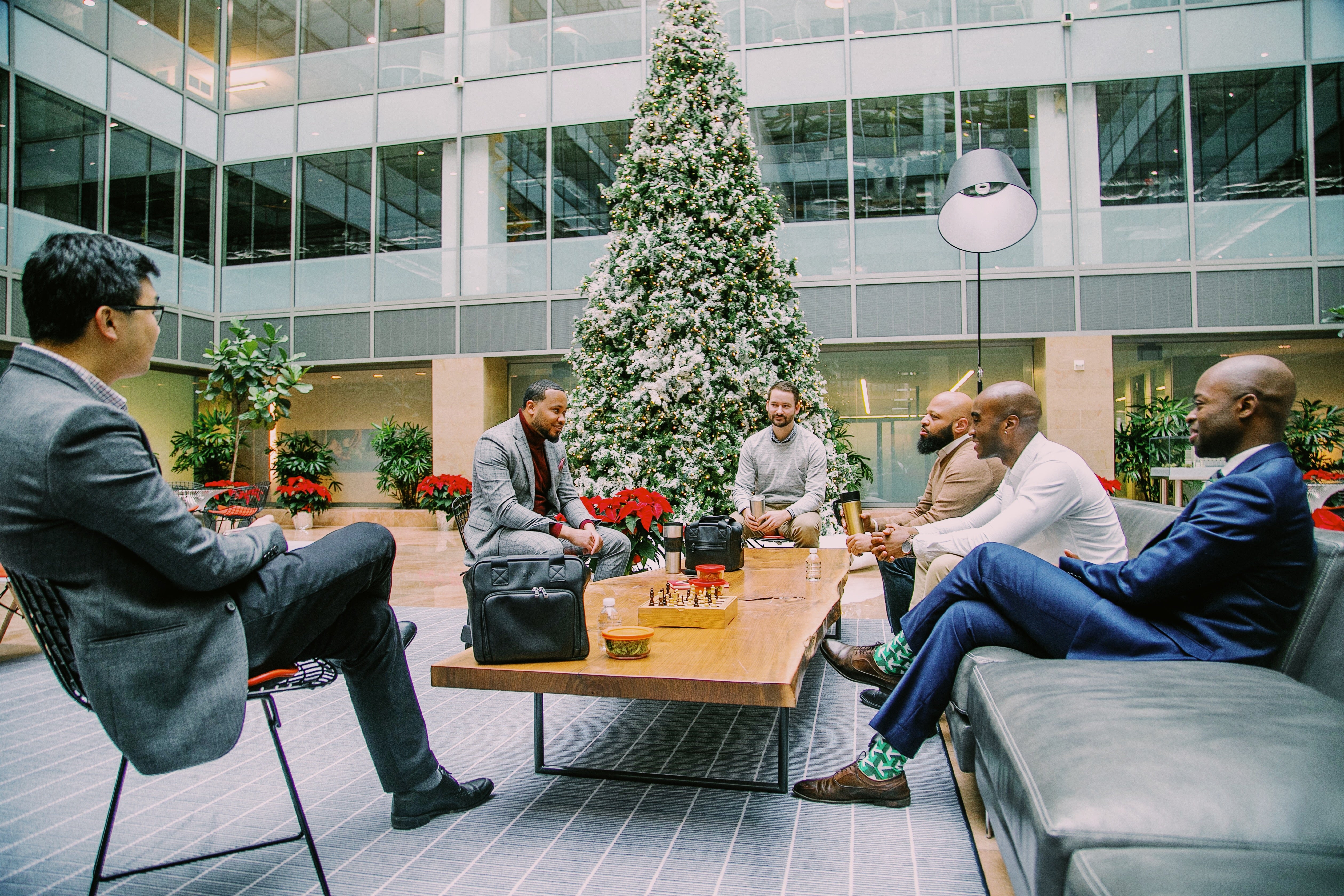 The Best Lunch Tote for 4 Different Types of Men
Updated March 31, 2020
There are multiple reasons to gift the men in your life throughout the year. Father's Day, birthdays, Christmas or just because are all good reasons to add value to someone's life in the form of merchandise. You probably could categorize the men in your life based on a plethora of things: hobbies, style of dress or religious beliefs. Many of them fall into multiple categories too! We at T|W Tote took a look at four different types of men: the suited professional, the creative, the father and the fitness enthusiast. Each one is unique and has different needs; all of which can be satisfied with an amazing gift.  
If you're looking for a gift for your loved one, the T|W lunch tote is perfect for the different types of men in your life. Keep reading to see who you can gift this lunch bag to!  
The Suited Professional
The T|W Tote is designed to look professional and classy, and looks great with any business attire. From a double-breasted suit jacket to a structured Silhouette Suit Jacket or your classic plain, two button suit, this professional lunch tote goes with everything.
It is becoming more and more apparent that men desire to look their best from head to toe and that includes their daily bags. We are seeing a comeback of lapel pins, pocket squares, even cuff links. Surprisingly, men are not afraid to take risk with color and allow their personalities to shine, even if it's just with a pair of fun socks.
Another trend that is popular amongst men is custom suits. Whether it is a wedding or a milestone in their lives, men (and women too) are looking to turn heads at their events with their attire. Custom interior with images of their families to exterior unique trims, all these are sewn into suits and are popping up all over the internet and social media. Not sure where to get a custom suit? If gentlemen in your life is in the market for a custom suit, check out our friends at Rex Bespoke Clothing.
We were introduced to this custom garment company through one of our friends/photographers, Abby. While conducting a shoot for our Guinep tote, Abby realized the model was a regular client of Rex Bespoke. Long story short, we were introduced to the owners, conversed about our shared backgrounds (both sets of founders reigning from New York City) and everything just… clicked. We love to see other small businesses thrive and these guys are THRIVING!
The Creative
Our luxury lunch bag has multiple uses. We must admit, we never imagined our clients would see our tote as multipurpose. We are pleasantly impressed and proud. Take for instance – The Creative Male. If you are a photographer, videographer or an assistant on site for a project, the material inside our insulated lunch totes are ideal for digital equipment. Because our totes take on the temperature of the item placed inside, creatives have been using our lunch bag to not only carry their snacks while on the go but their cameras and lens, too. The two-compartment tote really comes in handy while working long hours away from home. One client bought our tote to carry their lens, only. They had no intention to use it for food! Hey, we support it. The more problems our vegan lunch tote solves, the better.
The Father
Being a dad deserves a badge of honor. It has been an underrated role in the lives of our children. More and more fathers have been embracing their role as a dad, wholeheartedly! We love it and love the attention it is getting online. But here's the thing; dads are not necessarily fans of the standard baby bag. Most baby bags are usually designed with mom in mind and do not match dad's style. We often hear dads saying they need something a little more… designed with them in mind (smile). 
Don't worry moms, our tote is environmentally friendly. It is handmade and vegan leather. No animal cruelty or harsh chemicals over here. This lunch bag is also easy to clean. After a long day of fun, no need to stress over washing it. Just wipe it out with a disinfectant wipe or a damped piece of paper towel and it is good to go for the next day.  
Whether he is a dad, a godfather, the favorite uncle or grandpa, the T|W lunch tote allows for these father figures to carry the meals of little ones on the go, keeping their snacks safe and cool. There's even a pocket where you can store some napkins and utensils. If you're looking for dad inspiration, purchase some awesome dad swag or a place to submit your dad photos, check out our friends over at The Dad Gang.
The Fitness Enthusiast
Working out and eating healthy go hand in hand. Protein intake, macro counting and proper eating habits are keys to maintaining balance in a fitness enthusiasts' life. That being said, our fitness clients seem to carry the most items in their T|W Tote. One of best features of our large totes is the ability to compress the lower compartment, making room for larger bottles to fit comfortably in the top. On any given day, gym attendees' intake 1 or more shakes on the run. With our totes, these shakes are kept chilled until ready for consumption.
Worried if the temperature won't be maintained? Just drop a spare ice pack right in the top compartment! Our totes do not leak so even though the ice pack will melt over time, the liquid will be contained. Want to know how long ice stays frozen in our tote? Check out The Cooler Zone review of the Mero lunch tote.
Maybe the male in your life does not fit into one of these 4 categories. However, if you know anyone else who can benefit from a fashionable, dual compartment, and insulated lunch bag, the T|W lunch tote is a wonderful choice. 
Check out our full collection of totes available here.