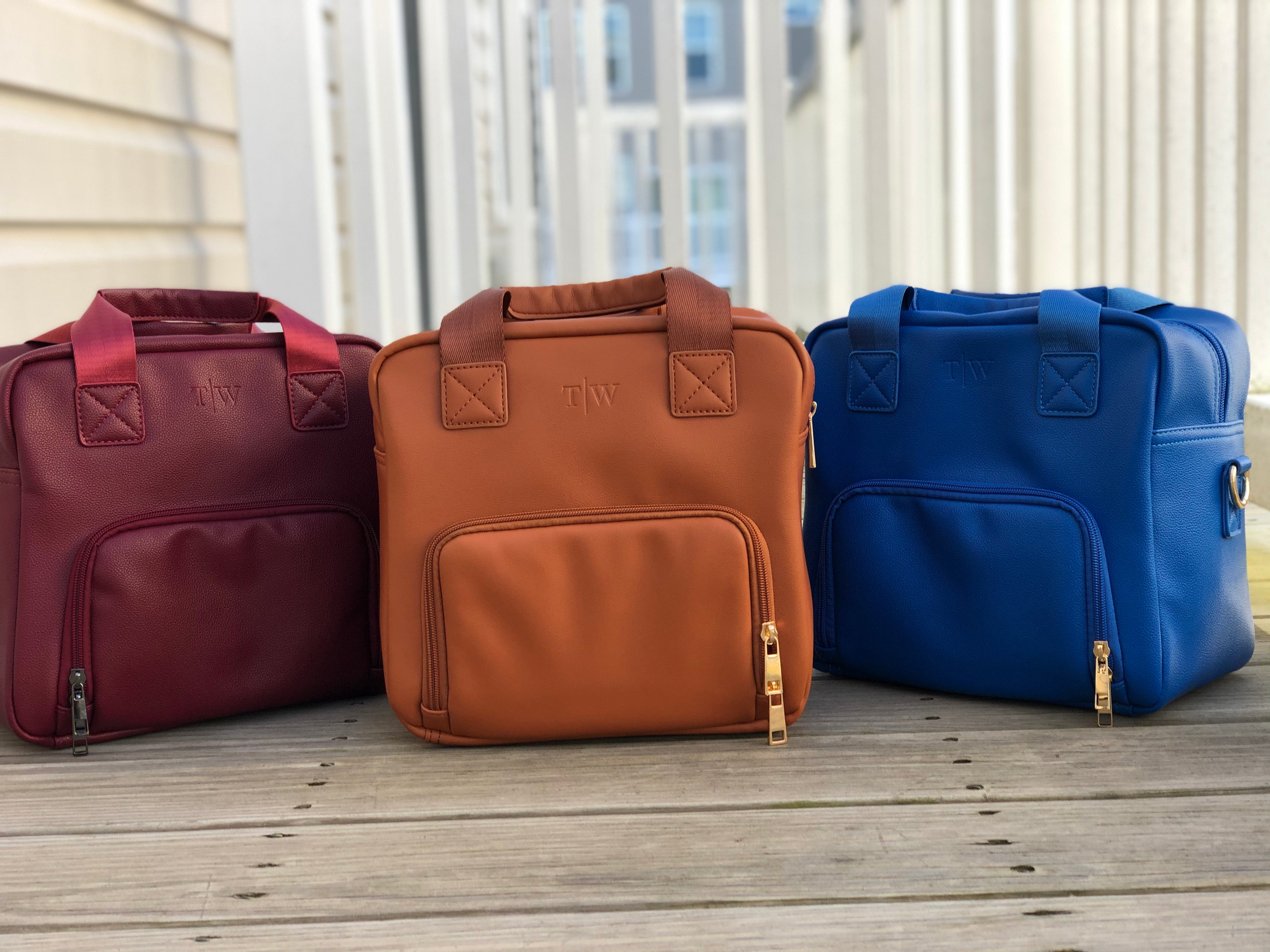 Our Luxury Insulated Lunch Totes: Spring 2020 Line
Often times, people ask us: "Where do you get the names of our totes from? How do you come up with them?"
That's simple: Our West Indian Heritage.
For Spring 2020, We at T|W tote launch two new colors: Luminous and Sorrel. These colors speak to different personalities. Let's dive into some of the history behind both.
Luminous
Our Luminous tote is named after Jamaica's famous Luminous Lagoon. 
"The Luminous Lagoon stretches along the marshlands of Trelawny from the small community of Rock to the town of Falmouth. In the 18th century when sugar was king, Falmouth was one of Jamaica's most pivotal ports.
Located at the eminent point where the Martha Brae River meets the Caribbean Sea, the lagoon housed a wharf where large vessels from England unloaded goods onto smaller ships to be delivered inland up the river. Once inland, these boats would reload with sugar, rum and other Jamaican exports and carry them back to the harbor. Years after the decline of the sugar trade, scientists discovered the lagoon's geographical location was important for another reason. It was the single best place to observe and study microorganisms called dinoflagellates, which thrive in the layers where salt and fresh water combine and glow the brightest in shallow, warm water." - visitjamaica.com
I've had the privilege of going to the Lagoon two times thus far. It is absolutely beautiful! If you get the opportunity to go, please jump on it. Keep in mind though, tide and clarity play a huge role in how blue the water will glow. Both times, I had a blast. Due to the eye-catching nature of the Luminous Lagoon, we at T|W Tote decided its name was very fitting for our blue insulated lunch tote.
Sorrel
One of Shallon's favorite drinks is Sorrel. It's usually served at celebratory events or during the holidays. If your love for it is as strong as Shallon's is, then it's whenever you have time to make it.
What is sorrel?
"Popularly known as the festive Caribbean drink, the sorrel drink is made from the dried or fresh sepals of the bright red and sometimes crimson coloured flower. This annual plant which takes about six months to mature is usually harvested in the festive months of November, December and early January. During this period, the drink is made and consumed the most hence its name 'Festive Drink.'
In later years, it was realized that the dried sepals of the flower could also be used for the drink and it could be consumed all-year round.
Much like the origin of some foods like Okra and Yam which were brought to the Caribbean from Africa during the slave trade, the 'Hibiscus Sabdariffa' or Roselle plant also has its roots in West Africa. Most of these plants manage to thrive in Caribbean regions due to favourable weather conditions that are very similar to the weather in Africa.
There are so many cultural variations to making the sorrel drink. Some cultures add a lot of ginger and local spices to taste. Others even make cocktail variations by adding rum and other forms of alcohol. The sorrel drink is still very popular in West African countries especially Ghana where it is called 'sobolo' and in Nigerian where it is called 'zobo'." – Face2Face Africa
We encourage you to try make sorrel on your own. It's a pretty enjoyable drink. Let us know, in the comments, if you'd like for Shallon to share his famous recipe. 
Why these colors for a professional lunch bag?
As we looked at our other professional lunch tote offerings, Mero and Guinep, we realized, those are "safe". Now, there is nothing wrong with safe but our community is known to take risks in fashion and style. We at T|W Tote wanted to make sure we have colors for when your customers want to STEP OUT and be bold, but still be professional, you know?
What about the insulated interior: what color are those?
Luminous is sporting a light gray interior allowing for a crisp look. Some may shy away from this lighter interior as there is fear of it getting dirty quickly. Is that fear valid? Somewhat. Yes, if something is spilled in it, it will show easier. However, the beauty of our interior material is that it is easily cleaned with a disinfectant wipe or damp piece of paper towel.
Sorrel has our signature cognac color interior. We went back and forth on the perfect color and landed on cognac because it really complements the rich red exterior of this lunch bag. This color combination will also serve our clients well right through the fall. Everyone loves the color! It's really one that can be rocked all year around.
Finally, a professional lunch bag with STRAPS!
You requested, we provided. Both Luminous and Sorrel come with an option to have shoulder straps. Look carefully though, there are different. Luminous sports its gold strap hooks on the side of the tote, allowing for easy one shoulder carry. Many of our female clients informed us that this is their preferred carry method.
Sorrel, on the other hand, has its gun metal strap hooks on the back of the tote. This adds for stability and comfort when carrying your lunch bag, messenger style. Males seem to prefer this option as it really relies on your body to stabilize the tote. It is less likely to move, often or even tip over. Our mothers with infants or toddlers also favor this strap placement. It allows them to just slide it to the front and have easy access to both compartments.
Of course, this does not mean that Luminous is for women and Sorrel is for men. They are all great options for anyone looking for a professional lunch tote. We are simply highlighting some feedback and user testing results. User feedback and UAT (User Acceptance Testing) is very important to use at T|W Tote.
What about Guinep? Guinep will be getting a strap option as well. Our number one selling insulated lunch tote will have strap hooks on the back of the tote, similar to Sorrel. We are hoping to have that available late May/Early June. Sign up for our newsletter for more information on that one it is available.

Have you been to the Luminous Lagoon? How was your experience?
Do you have a sorrel recipe you'd like to share? Comment below!